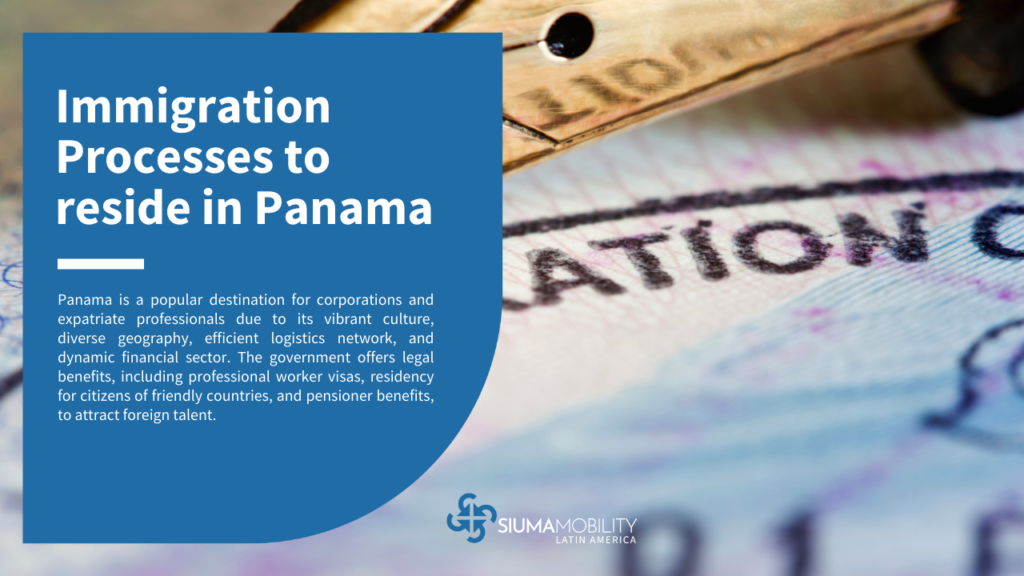 Panama offers a vibrant cultural and geographic diversity, a dynamic financial sector, and a complex and efficient logistics network that processes more than $270 billion in goods per year. Siuma Mobility as a regional partner is dedicated to understanding and complementing the experience of multinational corporations and expatriate professionals planning to relocate to Panama by assisting them in managing the legal procedures to successfully establish in the country.
The Panamanian State has designed a series of legal benefits to attract talent from all over the world and enrich the country with a diversity of knowledge.
A foreign professional is eligible for a professional worker visa through the Marrakech agreement of 1997. A professional with a bachelor's degree or higher technical university degree is eligible for a visa and work permit for two years (extendable). After the initial 2 years, he/she can opt for a permanent residence and its respective indefinite work permit.
If the job offer is from a company registered in Panama under Law 41 for multinational company headquarters, the process is even more expeditious, and the residence permits are also extended to the dependents of the foreign professional. There are more than 177 multinational company headquarters that have chosen Panama as their hub of operations and the number is growing by about 10% annually.
The most popular modality to relocate expatriates to Panama is under the benefits received by "friendly countries". In Panama you can opt for a residency if you are a citizen of one of the 50 "friendly countries". The Panamanian State extends this benefit to more than one billion people globally. Among them are nationals of countries of the European Union, USA, Canada, New Zealand, Australia, Singapore, and countries of the South American cone.
For those companies wishing to establish themselves in Panama, the country offers not only a fiscal, geographical, and cultural paradise but also access to the most qualified talent in the world.
Additionally, the benefits that pensioners receive when migrating to the isthmus represent an added value for the families of expatriate professionals in the country.
Panama is a favorite destination for people looking to retire outside their country of origin. The only requirement is to demonstrate a pension of $1,000.00 dollars per month per person or $1,250.00 per couple, which will allow them to reestablish themselves in the Panamanian isthmus and receive a residence.
Additionally, retirees receive considerable economic benefits such as: 25% discount on domestic and international flights, restaurants and utilities, among others. With a pensioner's residence they can also import up to $10,000 in tax-free goods facilitating the construction of their new home.
Finally, Panama also rewards those investors who purchase real estate (worth over $300k with a residence permit in the country and with the option of bank financing.
Siuma Mobility's relocation services team not only manages and administers the legal processes for obtaining visas or work permits, the experience in each of the different aspects and challenges of relocating to a new country has led us to develop a comprehensive range of corporate and personal solutions for our partners.
From finding the ideal house or apartment for a young professional, a new couple or a family, to personalized tours of the country's schools and sports clubs. SIUMA Group accompanies its executives from the first immigration appointment, the opening of a bank account, to the purchase of a vehicle and the homologation of a driver's license.
A family can relocate to Panama and find in Siuma Mobility a partner to manage everything from moving furniture and airport transfers to purchasing school uniforms for the family's children. Every challenge anticipated and every value-added opportunity maximized in a customized design.
The success of Siuma Mobility's philosophy is not a replicable formula, it is the product of the synergy between our experts and the eagerness to design optimal solutions for our partners. Each accompaniment is a unique combination of a team formed specifically to meet the needs and anticipate the challenges of relocating to Panama.